TrueChoicePack (TCP) is a total solutions provider for private label and custom disposable products. We are a proven expert in product design and manufacturing and are ready to provide you service from concept to delivery. We'll work with you through the entire process to ensure your unique business goals are met. We proudly provide an array of products: tableware disposables, trashcan liners, retail bags, plastic cling films, aluminum foils, parchment paper, wax paper, PPE (face masks, disinfectant wipes, gloves, etc.), and so much more. Our goal is to provide our customers with disposables that maximize quality, efficiency, sustainability and profitability. To meet these goals, we offer products that are made from renewable and compostable materials as well as traditional plastic and paper materials.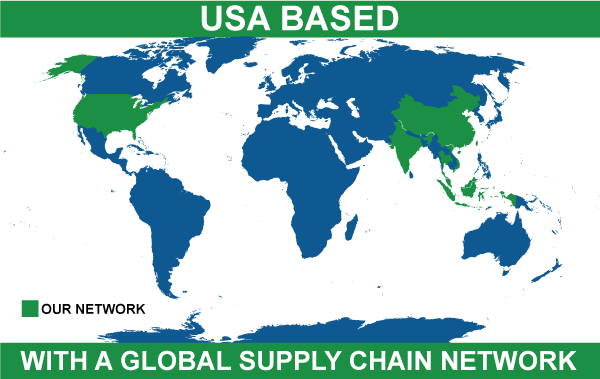 We have developed a robust infrastructure coupled with cost effective manufacturing site locations in Indonesia, South Korea, China, Taiwan, Vietnam, Thailand, Malaysia, and India ensure customers to benefit from reduced lead times, greater flexibility, accurate order processing and just-in-time delivery of their products. Our network of 4 US warehouses, located in California (Industry), Illinois (Chicago), Ohio (Dayton) and New Jersey (South Kearny), allow our customers to experience these benefits, regardless of where they are located.
TrueChoicePack places a huge emphasis on sustainability. Our successful BioGreenChoice® brand and product line – featuring 100% biodegradable and compostable food service disposable products – is one of the leading sustainable food service disposable lines. TCP manufactures over 100 products that are made from renewable resources like bagasse and cornstarch. All these products degrade in 90 days in commercial composting facilities, and they are OK Compost HOME and BPI-certified by the Biodegradable Products Institute.
Our team understands that the disposable needs of each of our business customers are unique, which is why offer a distinctive, consultative approach to satisfy these needs. Our in house expert team of scientists and engineers gives us the ability to develop highly innovative solutions. These solutions are carefully analyzed and tested to ensure they are the best solution and the best quality for our customers.
Rakesh Rathore, our CSO/COO with a Ph.D. in Biochemistry, efficiently leads our quality management, R&D and innovation efforts. With Rakesh and the rest of our in-house R&D expertise, coupled with worldwide manufacturing and distribution network we provide cost effective, innovative solutions to our customers.
At TrueChoicePack, we are committed to putting the choice in the hands of our customers. We are happy to provide the products you need where you need them, when you need them.