Product Categories
Aluminum Foil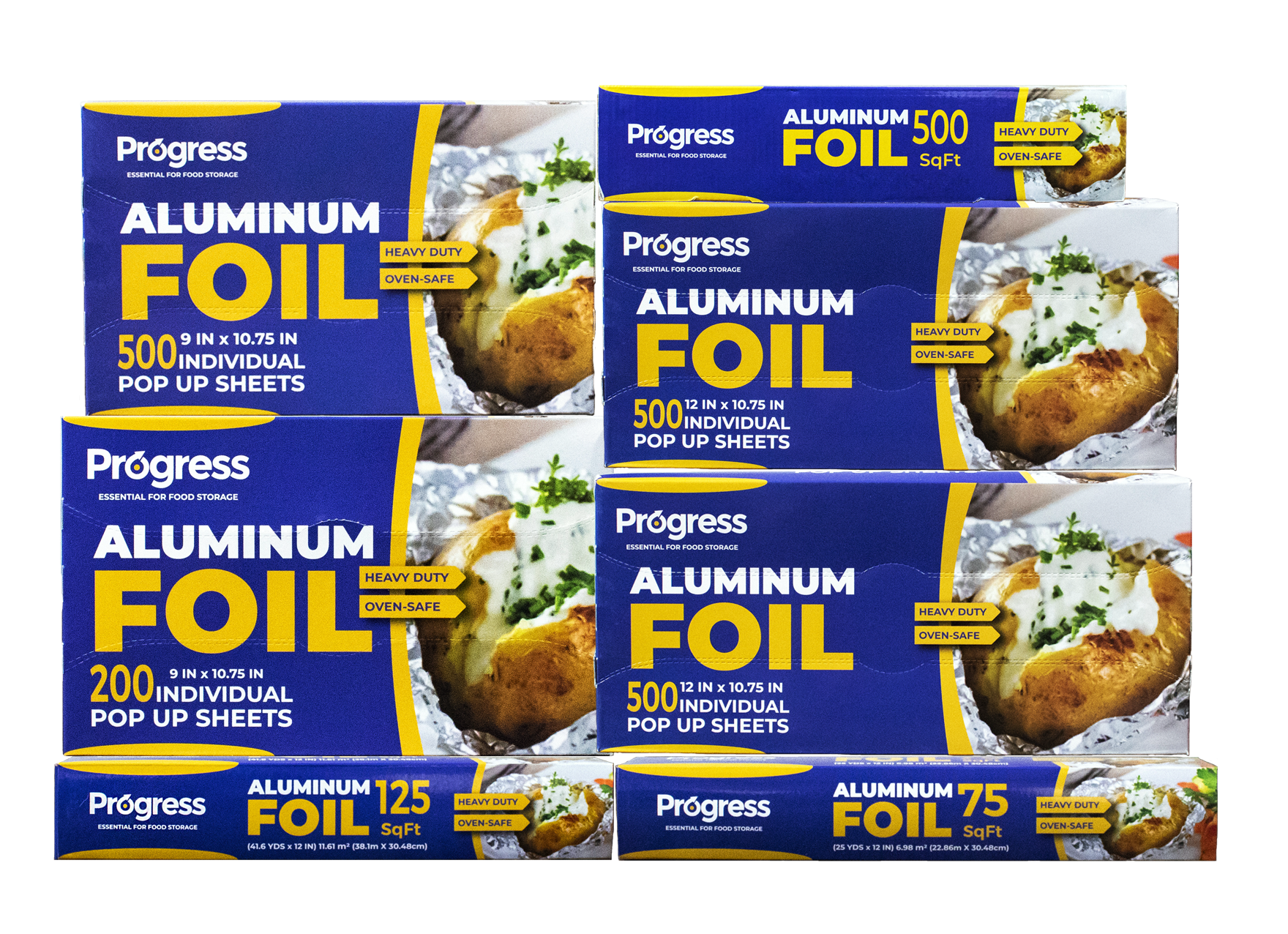 Progress aluminum foil products are made of 100% aluminum and are perfect for a wide variety of cooking, baking, and household applications. Rugged construction means our foil can stand up to even the toughest kitchen tasks and make annoying rips and tears a thing of the past! Bake cakes, cookies, and pastries, steam foods by cooking "en papillote", line sheet pans, ovens, air fryers, and countertops for easy cleanup, serve fried foods, and appetizers in a simple and sanitary manner, or wrap sandwiches and delicate baked goods for optimum freshness. Our foil is free from heavy metals and BPAs meaning it won't impart unwanted flavors or dangerous chemicals into your food.
Heavy Duty - Like all Progress kitchen supplies, our Heavy Duty Aluminum Foil Rolls are designed to stand up to the rigor of everyday use.
Multipurpose: Ideal for a variety of household tasks, both in the kitchen and around the house! Use Progress Aluminum Foil for baking, organization, food storage, wrapping, or even for arts and crafts and hair dyeing. The possibilities are endless!
Practical: We believe that household basics should be affordable and do their job without any fuss. Our aluminum foil acts as an instant non stick surface for baking and makes kitchen clean up a breeze.
Safe: Protect your family's health by choosing Progress Aluminum foils! Our products are free from heavy metals, BPA, and other harmful chemicals.
Perfect Fit: Our aluminum foil measures 12 inches wide: ideal for a variety of applications. Foil is packaged in a convenient dispenser with serrated cutting edge so you can cut to size on the fly.
| SKU | SIZE | COUNT | CASE SIZE |
| --- | --- | --- | --- |
| R-5001 | 9in x 10.75in | 200 | 12 |
| R-5002 | 12in x 10.75in | 200 | 12 |
| R-5004 | 9in x 10.75in | 500 | 6 |
| R-5005 | 12in x 10.75in | 500 | 6 |
| R-5016 | 75 SqFt | - | 24 |
| R-5017 | 125 SqFt | - | 24 |
| R-5018 | 250 SqFt | - | 12 |
| R-5019 | 500 SqFt | - | 6 |