Product Categories
Bowls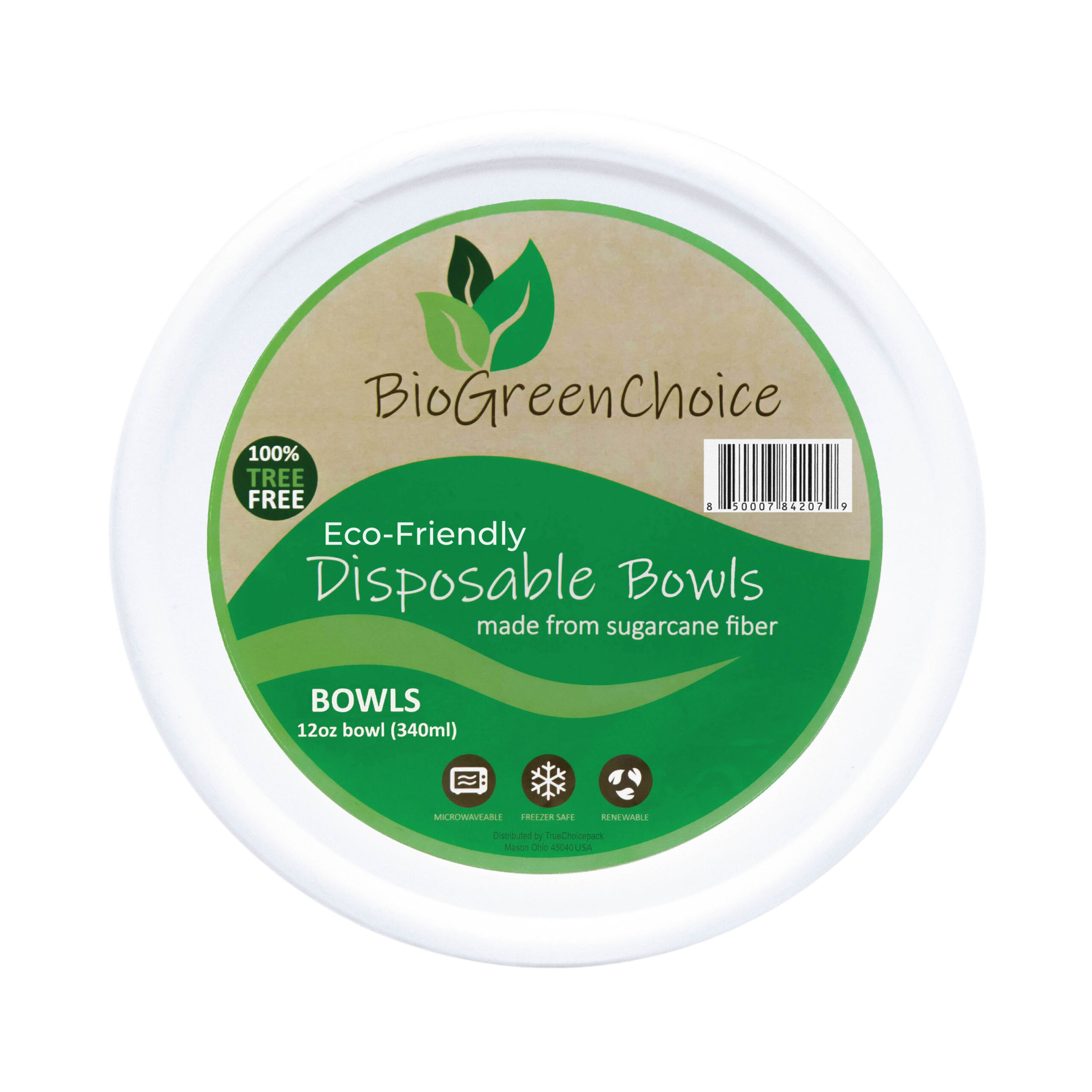 BioGreenChoice is a part of the solution to the ecological crisis, offering the world an eco-friendly alternative to traditional paper and plastic disposable products. Our bagasse and PLA lined hot bowls offer a variety of consumers the opportunity to conserve natural resources by utilizing sustainable, compostable materials. Bagasse is made from the residue of sugarcane/plant processing, which leaves a significantly smaller carbon footprint behind than conventional wood pulping. PLA (Poly Lactic Acid) is a polymer derived from cornstarch. BioGreenChoice bowls are healthier for humans to use and healthier for the environment. They do not carry an odor or alter the taste of food. BioGreenChoice is the smart, simple solution to achieving "zero waste" in all industries, including (but not limited to) restaurants, cafeterias, hotels, catered events, homes and all types of parties and celebrations.
STURDY & NATURAL BOWLS: Made from 100% natural sugarcane fiber / bagasse. Our disposable bowls are sturdy , durable, reliable and convenient making it the best choice for Restaurants, food truck supplies, office supplies, to go orders , catering and all events.
ECO FRIENDLY: Our elegant soup bowls are completely tree free and plastic free. Bagasse is a strong ecofriendly fiber that is a renewable, sustainable and green alternative to traditional fibers. Our soup bowls degrade with ease. Our soup bowls brings convenience to our customers and goodness to our mother earth
SAFE: BioGreenChoice Bagasse bowls can handle a wide range of temperatures (up to 220oF), which makes them suitable for both hot and cold foods . our bowls are microwavable & freezer safe, Oil and cut-resistant
OCCASIONS: Our hefty bowls are environmentally friendly and Perfect for a variety of events such as thanksgiving, BBQs, picnics, lunches, weddings, catering, birthday parties, camping etc. Ideal for serving ice cream, cereal, oatmeal, chili soup and other hot and cold items. Can also be used as disposable pet bowls to feed your dog or cat.
CERTIFIED FOR FOOD CONTACT: All BioGreenChoice meet the necessary requirements for food contact.
| Item Number | Product Description | Pack Count | Case Quantity |
| --- | --- | --- | --- |
| BGC-2021 | 12 oz Compostable Fiber/Bagasse Soup Bowl | 20 | 12 |
| BGC-2024 | 12 oz Compostable Fiber/Bagasse Soup Bowl | 50 | 6 |
| BGC-2025 | 12 oz Compostable Fiber/Bagasse Soup Bowl | 100 | 6 |
| BGC-2022 | 16 oz Compostable Fiber/Bagasse Soup Bowl | 20 | 12 |
| BGC-2026 | 16 oz Compostable Fiber/Bagasse Soup Bowl | 50 | 6 |
| BGC-2023 | 16 oz Compostable Fiber/Bagasse Soup Bowl | 100 | 6 |
| BGC-131 | 12 oz Compostable Fiber/Bagasse Soup Bowl | | 500 |
| BGC-132 | 16 oz Compostable Fiber/Bagasse Soup Bowl | | 500 |