Product Categories
Cold Cups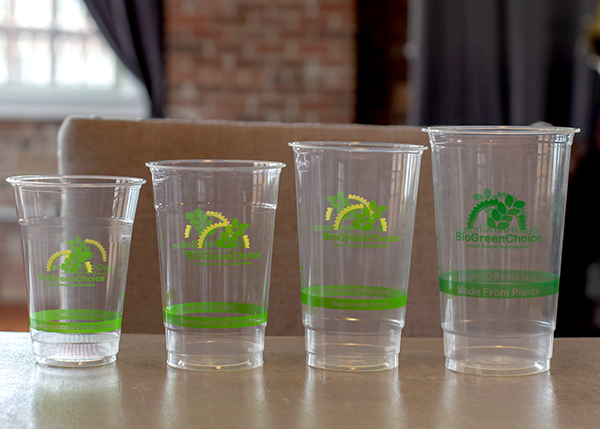 BioGreenChoice is a part of the solution to the ecological crisis, offering the world an eco-friendly alternative to traditional paper and plastic disposable products. Our PLA cold cups offer a variety of consumers the opportunity to conserve natural resources by utilizing sustainable, compostable materials. PLA (Poly Lactic Acid) is a polymer derived from cornstarch. Without the harmful chemicals found in plastic cups, BioGreenChoice cups are healthier for humans to use and healthier for the environment. They do not carry an odor or alter the taste of food. BioGreenChoice is the smart, simple solution to achieving "zero waste" in all industries, including (but not limited to) restaurants, cafeterias, hotels, catered events, homes and all types of parties and celebrations.
DISPOSABLE: BioGreenChoice Cold Cups (made from paper and lined with a PLA bio lining) are the perfect green alternative to disposable paper cups. They are a great choice for use in a variety of industries, such as: hotels, cafeterias, catered events, parties, homes and more.
ECO FRIENDLY: Our cold cups are made from paper and lined with PLA as opposed to plastic or wax made of harmful chemicals. The bio lining is a sustainable resource that is a strong, durable alternative to traditional plastic lining and chemical waxes. These cups will efficiently biodegrade (in commercial facilities) as opposed to taking up more room in our overflowing landfills for years to come.
QUALITY ASSURED: BioGreenChoice cold cups can handle a wide range of temperatures (up to 200°F). They are strong and sturdy, allowing them to hold a variety of different liquids from smoothies to lemonade.
CERTIFIED FOR FOOD CONTACT: All BioGreenChoice meet the necessary requirements for food contact.
| Item Number | Product Description | Pack Count | Case Quantity |
| --- | --- | --- | --- |
| BGC-2092 | 100% Compostable Plant-Based Clear Cold Cup, 12-ounce | 20 | 12 |
| BGC-2093 | 100% Compostable Plant-Based Clear Cold Cup, 12-ounce | 50 | 6 |
| BGC-2094 | 100% Compostable Plant-Based Clear Cold Cup, 16-ounce | 20 | 12 |
| BGC-2095 | 100% Compostable Plant-Based Clear Cold Cup, 16-ounce | 50 | 6 |
| BGC-521 | 1 oz Compostable Clear PLA Souffle Cup | | 3000 |
| BGC-522 | 2 oz Compostable Clear PLA Souffle Cup (Plain) | | 2000 |
| BGC-523 | 3-4 oz Compostable Clear PLA Souffle Cup (Plain) | | 1000 |
| BGC-302 | 5 oz Compostable Clear PLA Cold Cup (Printed) | | 2000 |
| BGC-321 | 7 oz Compostable Clear PLA Cold Cup (Printed) | | 2000 |
| BGC-322 | 9 oz Compostable Tall Clear PLA Cold Cup (Printed) | | 2000 |
| BGC-323 | 10 oz Compostable Clear PLA Cold Cup (Printed) | | 1000 |
| BGC-324 | 12 oz Compostable Clear PLA Cold Cup (Printed) | | 1000 |
| BGC-325 | 16 oz Compostable Clear PLA Cold Cup (Printed) | | 1000 |
| BGC-326 | 20 oz Compostable Clear PLA Cold Cup (Printed) | | 1000 |
| BGC-327 | 24 oz Compostable Clear PLA Cold Cup (Printed) | | 1000 |
| BGC-328 | 32 oz Compostable Clear PLA Cold Cup (Printed) | | 600 |
| BGC-381 | LID - (No Hole) - 3 to 9 oz Compostable Clear PLA Cold Cup | | 2000 |
| BGC-382 | Lid - (Straw Hole) - 10 to 24 oz Compostable Clear PLA Cold Cup | | 1000 |
| BGC-383 | Lid - (Dome) - 10 to 24 oz Compostable Clear PLA Cold Cup | | 1000 |
| BGC-631 | 12 oz Compostable Cold Paper Cup W/two sided Bio Lining | | 1000 |
| BGC-632 | 16 oz Compostable Cold Paper Cup W/two sided Bio Lining | | 1000 |
| BGC-633 | 20 oz Compostable Cold Paper Cup W/two sided Bio Lining | | 1000 |